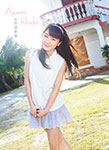 Ishida Ayumi's 1st photobook simply titled Ishida Ayumi (石田亜佑美) will be released on July 15.
The photobook includes photos of the 10th generation member of Morning Musume dancing and singing on stage. It also contains pictures of Ishida Ayumi posing in swimsuit, having club activities, or going to school through nice landscape.
It comes with a DVD featuring making-of footage.
Moreover, she will release a new solo DVD titled Ayumi in Guam on August 14.