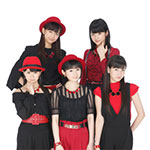 Juice=Juice 1st Live Tour 2014 News=News ~Kakuchi yori Otodake Shimasu!~ (Juice=Juice 1stライブツアー2014 News=News ~各地よりお届けします!~) will be held from June 13 to August 8.
As its name suggests, this event will be the first nationwide solo concert tour of Juice=Juice.
In addition to each live performance, there will be handshaking sessions with the members of the idol group.
Furthermore, Juice=Juice will also participate in Hello! Project 2014 Summer ~Korezo!~ ~Yappari!~ between July and September.
Schedule
13/06/2014 : FanJ Twice, Osaka
15/06/2014 : Kashiwa Palooza, Chiba
21/06/2014 : F.A.D Yokohama, Kanagawa
01/07/2014 : Heaven's Rock Saitama Shintoshin VJ-3, Saitama
20/07/2014 : Drum Son, Fukuoka
21/07/2014 : Kobe Slope, Hyogo
28/07/2014 : ell.Fits All, Aichi
08/08/2014 : Kyoto Muse, Kyoto