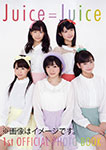 Juice=Juice 1st Official Photobook will be released on February 27. It marks their 1st anniversary.
This photobook follows the history of Juice=Juice since their formation in February 2013. It contains interviews with the 5 members of the idol group.
The book includes unreleased pictures taken for UTB magazine for one year. They show the members of Juice=Juice on stage during live performances, behind the scenes, during the filming of the MVs, release events, …
It is published by Wani Books (ワニブックス).