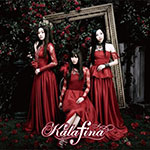 Kalafina is a Japanese girl group formed in late 2007.
It currently consists of 3 members.
The origin of the name of the unit is kept secret. It has been said that it was chosen to sound like a word from Eastern Europe.
History
Kalafina was formed by the music producer and composer Kajiura Yuki in 2007.
The band started its activities as part of Kajiura Yuki's project FictionJunction. The 2 original members were Wakana and Keiko.
The girls performed the theme song for the movie version of the anime The Garden of Sinners (空の境界). It was on their debut single Oblivious released in January 2008.
Hikaru and Maya passed an audition to join the group as vocalists in May 2008. They have been chosen among 30,000 applicants.
Kalafina held their 1st live tour in 2010. They gave concerts in Japan and in other countries in Asia : Taipei (Taiwan), Shanghai (China) and Hong Kong.
Kalafina also participated in several Japanese, anime and manga festivals in various foreign countries : Anime Boston (USA) in 2009, Anime Expo in Los Angeles (USA) in 2011, AFA (Malaysia and Singapore) in 2012, AnimagiC in Bonn (Germany) in 2012, Anime Central in Chicago (USA) in 2013, Japan Expo in Paris (France) in 2014.
Profile
Kalafina (カラフィナ)
Years active : 2007 – present
Label : SME Records
Agency : Space Craft
Members
Former Members
Discography
Singles
23/01/2008 : Oblivious
30/07/2008 : Sprinter / Aria
24/12/2008 : Fairytale
04/03/2009 : Lacrimosa
01/07/2009 : Storia
28/10/2009 : Progressive
20/01/2010 : Hikari no Senritsu (光の旋律)
15/09/2010 : Kagayaku Sora no Shijima ni wa (輝く空の静寂には)
16/02/2011 : Magia
18/04/2012 : To the Beginning
18/07/2012 : Moonfesta 〜ムーンフェスタ〜
24/10/2012 : Hikari Furu (ひかりふる)
02/10/2013 : Alleluia (アレルヤ)
06/11/2013 : Kimi no Gin no Niwa (君の銀の庭)
Albums
04/03/2009 : Seventh Heaven
17/03/2010 : Red Moon
21/09/2011 : After Eden
20/03/2013 : Consolation
Mini-Albums
23/04/2008 : Re / Oblivious
Live Albums
23/01/2013 : Kalafina 5th Anniversary Live Selection 2009-2012
Best Albums
16/07/2014 : The Best "Red"
16/07/2014 : The Best "Blue"
Links
News