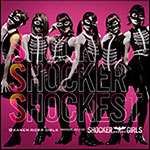 Kamen Rider Girls' 7th single SSS ~Shock Shocker Shockest~ will be released on July 24.
For this single, Kamen Rider Girls are credited as Shocker Girls as they are supposed to have been "altered by an evil organization".
The limited edition contains a bonus DVD including the music video.
It is the main theme song for the event Shocker no Himitsu Kichi (ショッカーの秘密基地) to be held this summer.
The lyrics were written by Fujibayashi Shoko. The music was composed by DJ HurryKen.
Tracklist
CD

SSS ~Shock Shocker Shockest~
RRR ~Rider Real Respect~
Roller Coaster Days
SSS ~Shock Shocker Shockest~ (Instrumental)
RRR ~Rider Real Respect~ (Instrumental)
Roller Coaster Days (Instrumental)
DVD (Limited Edition)

SSS ~Shock Shocker Shockest~ (Music Video)