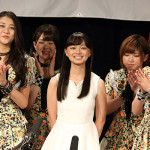 Kamikokuryo Moe became a new member of Angerme.
She is the only girl selected among 1800 applicants to the Angerme 4th generation audition which took place last summer.
Kamikokuryo Moe is 16 years old.
She told that she was a fan of Fukuda Kanon. Unfortunately, she won't stay long with Maro, the reincarnation of Cinderella, because she is going to graduate on November 29.
Kamikokuryo Moe was introduced on November 11 during an event held for the release of Angerme's new single Desugita Kui wa Utarenai / Dondengaeshi / Watashi.