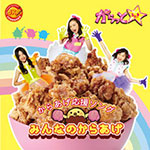 Karat☆'s new single Minna no Karaage (みんなのからあげ) was released on July 18.
This is the debut single from Karat☆.
The MV has been released.
It is the ending theme song for the children's variety show Piramekino (ピラメキーノ) broadcast on TV Tokyo (テレビ東京).
Only one edition is available.
The CD includes the samba version of the lead song.
Tracklist
Minna no Karaage (みんなのからあげ)
Karat☆ Hareta ne (からっと☆晴れたね!)
Minna no Karaage ~Samba version~ (みんなのからあげ~サンバ・バージョン~)
Minna no Karaage (みんなのからあげ) (Instrumental)
Karat☆ Hareta ne (からっと☆晴れたね!) (Instrumental)
Music Video (PV)