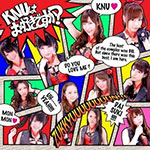 KNU's 6th single KNU wa Osuki Desu ka? (KNUはお好きですか?) will be released on June 5.
The title track is a new version of KNU's theme song. It is a rock song matching with their dance number.
The CD contains 2 songs and their instrumental versions.
Their 7th single Start! will go on sale on the same date.
Tracklist
KNU wa Osuki Desu ka? (KNUはお好きですか?)
Tawawa (たわわ)
KNU wa Osuki Desu ka? (KNUはお好きですか?) (Instrumental)
Tawawa (たわわ) (Instrumental)