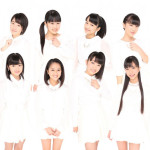 Kobushi Factory (こぶしファクトリー) is a Japanese idol group formed in January 2015. They are also known as Magnolia Fa.ctory.
It is part of Hello! Project and produced by Tsunku♂.
Kobushi Factory currently consists of 8 members. Each one has been assigned a color.
Biography / History
The creation of the idol group was announced during Hello! Project 2015 Winter tour in January 2015.
All members are also Hello Pro Kenshuusei.
The name Kobushi Factory was revealed in February 2015. It refers to Berryz Kobo. It refers to the elegance of the magnolia kobushi, which is a Japanese flower, and to the strength of the clenched fist.
Their 1st DVD single Nen ni wa Nen / Survivor (念には念 / サバイバー) is going to be released in March 2015. It features songs from the musical Week End Survivor starring the members of the idol group.
The idol group opened its blog in March 2015.
The girls were starring in the play Week End Survivor was from March to April 2015 at Big Three Theater, Tokyo.
Kobushi Factory opened their Facebook page and their Twitter account in April 2015.
Saki Shimizu (Berryz Kobo) works with Kobushi Factory as "Hello! Project advisor". Her role is to be the "bridge" between the staff and the members.
The image color of each girl has been announced in June 2015.
Profile
Kobushi Factory (こぶしファクトリー)
Years active : 2015 – present
Label : –
Agency : Up-Front
Members
Fujii Rio (藤井梨央) – Mustard
Hirose Ayaka (広瀬彩海) – Turquoise
Nomura Minami (野村みな美) – Royal Blue
Ogawa Rena (小川麗奈) – Red
Hamaura Ayano (浜浦彩乃) – Pink
Taguchi Natsumi (田口夏実) – Orange
Wada Sakurako (和田桜子) – Green
Inoue Rei (井上玲音) – Purple
Discography
Singles
26/03/2015 : Nen ni wa Nen / Survivor (念には念 / サバイバー)
Albums
Links
News