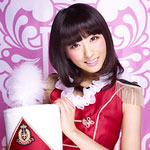 Kotone Mai's new single Bang Bang Koteki Samba (Bang Bang 鼓笛サンバ) will be released on August 14.
It is the debut major label single of Kotone Mai under Victor Entertainment.
The MV has been released.
The regular edition contains 2 songs and their instrumental versions.
The limited editions include a bonus track. The Type A comes with a DVD featuring the music video and bonus footage.
Furthermore, Kotone Mai will hold her birthday live on August 23 at Shibuya O-East in Tokyo.
Tracklist
Regular Edition
CD

Bang Bang Koteki Samba (Bang Bang 鼓笛サンバ)
Pink no Himitsu (ピンクのヒミツ)
Bang Bang Koteki Samba (Bang Bang 鼓笛サンバ) (Instrumental)
Pink no Himitsu (ピンクのヒミツ) (Instrumental)
Limited Edition Type A, B, C, D
CD

Bang Bang Koteki Samba (Bang Bang 鼓笛サンバ)
Pink no Himitsu (ピンクのヒミツ)
Koko Dake no Hanashi ~Isu Tori Game~ (ここだけの話 ~椅子取りゲーム~)
DVD

Bang Bang Koteki Samba (Bang Bang 鼓笛サンバ) (Music Video)
Making of (オフショット映像)
Music Video (PV)