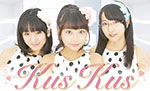 Kus Kus will release their new single Suteki na Takaramono (ステキな宝物) on November 6.
It is the debut single from Kus Kus under the label Universal Music.
The music video has been revealed.
It is the opening theme song for Enkatsu! (エン活!) broadcast on TBS TV.
3 editions are available. The tracklist is the same for each one of them.
The CD comes with the photo of one of the 3 members of the idol group randomly selected.
Tracklist
CD

Suteki na Takaramono (ステキな宝物)
Suki Kiss (好キス)
Music Video (PV)