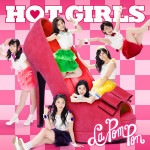 La PomPon's new single Hot Girls will be released on April 29.
The theme of La PomPon's 2nd single is "let's be more positive girls".
The MV and the cover artwork have been unveiled. The members of the idol group are wearing colorful costumes inspired by fairy tales.
According to the staff, the pink background has been chosen because it is a "cute and hot" color. The high heel and the fashion items featuring on the covers symbolize this concept and femininity.
The lyrics of all songs were written by Yukino.
La PomPon is an idol group consisting of 6 members. Their average age is 15 years old.
Release events will be held on March 21 at Akishima Mori Town Movix and on March 29 at Shoppers Plaza Yokosuka.
Tracklist
Regular Edition

CD

Hot Girls
Step by Step ~Roppongi de Ganbaru Watashitachi~ (~ろっぽんぎで頑張るワタシタチ~)
Hot Girls (Instrumental)
Step by Step ~Roppongi de Ganbaru Watashitachi~ (Instrumental)
Limited Editions

CD

Hot Girls
Koi wa Zouk Dance (恋はずーく☆ダンス)
Hot Girls (Instrumental)
Koi wa Zouk Dance (Instrumental)

DVD (Type A)

Hot Girls (Music Video)
Making-of

DVD (Type B)

6-tsu no Honki de Hitotsu ni Nare! La PomPon no Roppongi! (6つの本気でひとつになれ! La PomPonの六本気!)
Music Video (PV)