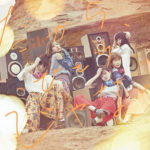 Little Glee Monster will release their new single Dakara, Hitori Janai (だから、ひとりじゃない) on May 31.
It's the 8th single by Little Glee Monster.
This is the 1st single of the idol group without Arai Maju, who went on hiatus since April for an indefinite period.
In the MV, the members of Little Glee Monster sing and dance with many performers at Universal Studios Japan.
The single will be available in several editions.
The regular edition will contain a CD only, whereas the limited editions will include a different CD and a DVD (in which features the full version of the music video).
Another edition, only sold during the single's first presses, will be also available. It will contain different CD and DVD.
The song Dakara, Hitori Janai is used as new ending theme for the 2nd season of the anime My Hero Academia.
The B-side track Shiawase no Kakera, is used as new ending theme song for the NHK program Grūteru no Kamado.
The single features a bonus track, which is a cover of the disco song September by Earth, Wind & Fire.
Tracklist
Regular Edition

CD

Dakara, Hitori Janai (だから、ひとりじゃない)
Shiawase no Kakera (幸せのかけら)
Go My Way!
September (Earth, Wind & Fire cover) (bonus track)
Limited Edition

CD

Dakara, Hitori Janai (だから、ひとりじゃない)
Shiawase no Kakera (幸せのかけら)
Go My Way!
September (Earth, Wind & Fire cover) (bonus track)
Dakara, Hitori Janai (Instrumental)

DVD

Dakara, Hitori Janai (Music Video)
Limited Press Edition

CD

Dakara, Hitori Janai (だから、ひとりじゃない)
Shiawase no Kakera (幸せのかけら)
Go My Way!
September (Earth, Wind & Fire cover) (bonus track)
Dakara, Hitori Janai (TV-Size)

DVD

Shiawase no Kakera (Non Credit ED Picture)
Music Video (PV)