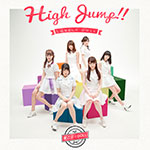 Lovely Doll (愛乙女★Doll) will release their new single High Jump!! on April 9.
This is the major debut single from Lovely Doll (愛乙女★Doll) under Nippon Crown.
The short version of the MV has been released.
3 editions are available.
Type A and B comes with a bonus DVD featuring the PV and a documentary on the idol group.
Type C includes both coupling songs.
Moreover, Lovely Doll will hold their 5th one-man live on April 18 at Shibuya-AX in Tokyo.
Tracklist
Type A

CD

High Jump!!
Kiseki (キセキ)
Dare Yori Kimi ga No.1 (誰よりキミがNo.1)
High Jump!! (Off Vocal)
Kiseki (キセキ) (Off Vocal)
Dare Yori Kimi ga No.1 (誰よりキミがNo.1) (Off Vocal)

DVD

High Jump!! (Music Video)
Document of Lovely Doll ~Mada Miita Koto no Nai Keshiki e~ (ドキュメント・オブ 愛乙女★Doll ~まだ見たことのない景色へ~) (Part 1)
Type B

CD

High Jump!!
Kiseki (キセキ)
Time Capsule ~2-Nengo no Boku e~ (タイムカプセル~2年後の僕へ~)
High Jump!! (Off Vocal)
Kiseki (キセキ) (Off Vocal)
Time Capsule ~2-Nengo no Boku e~ (タイムカプセル~2年後の僕へ~) (Off Vocal)

DVD

High Jump!! (Music Video)
Document of Lovely Doll ~Mada Mita Koto no Nai Keshiki e~ (ドキュメント・オブ 愛乙女★Doll ~まだ見たことのない景色へ~) (Part 2)
Type C

CD

High Jump!!
Kiseki (キセキ)
Dare Yori Kimi ga No.1 (誰よりキミがNo.1)
Time Capsule ~2-Nengo no Boku e~ (タイムカプセル~2年後の僕へ~)
High Jump!! (Off Vocal)
Kiseki (キセキ) (Off Vocal)
Dare Yori Kimi ga No.1 (誰よりキミがNo.1) (Off Vocal)
Time Capsule ~2-Nengo no Boku e~ (タイムカプセル~2年後の僕へ~) (Off Vocal)

DVD

High Jump!! (Music Video)
Document of Lovely Doll ~Mada Mita Koto no Nai Keshiki e~ (ドキュメント・オブ 愛乙女★Doll ~まだ見たことのない景色へ~)
Music Video (PV)