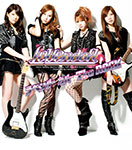 LoVendoR's 1st mini album LoVendoR Cover the Rock (ラベンダー カバー The Rock) will be released on May 22.
The album consists of 8 songs. As its title suggests, it includes covers of rock songs performed by the band.
It comes with a bonus DVD featuring 2 videos and a live performance footage.
LoVendoЯ is a new female rock band lead by Morning Musume member Tanaka Reina.
The unit is currently holding its 1st live tour.
Tracklist
CD

Nemurenai Yoru (眠れない夜)
Kyou made soshite Ashita kara (今日までそして明日から)
Kokki Hatameku shita ni (国旗はためく下に)
Ame Agari no Yozora ni (雨あがりの夜空に)
Shunkashuutou (春夏秋冬)
Tadoritsuitara Itsumo Amefuri (たどりついたらいつも雨ふり)
Rakuyou (落陽)
Joukyou Monogatari (上・京・物・語)
DVD

Joukyou Monogatari (上・京・物・語) (Music Video)
Shunkashuutou (春夏秋冬) (Live Ver.)
Ame Agari no Yozora ni (雨あがりの夜空に) (Music Video)