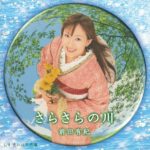 Sarasara no Kawa (さらさらの川) is the 5th single released by Maeda Yuki on January 1, 2004.
The lead song was featured on Hello! Project's album Petit Best 5.
Maeda Yuki is an enka singer who belonged to Hello! Project until her graduation in 2009. She remained active from 2000 to 2012.
Maeda Yuki was part of the shuffle unit Salt5 along with Abe Natsumi, Kago Ai, Ogawa Makoto (Morning Musume) and Matsuura Aya in 2003. She was also a member of HP All Stars in 2004.
Track list
Sarasara no Kawa (さらさらの川)
Sore wa Fushigi (それは不思議)
Sarasara no Kawa (Instrumental)
Sore wa Fushigi (Instrumental)
Music Video (PV)
Concert Performance
Hello! Project 2004 Summer -Natsu no Boon!