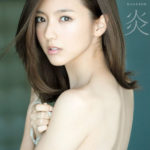 Mano Erina's new photobook Kageroh (陽炎-KAGEROH-) will be published on November 20.
Mano Erina, the ex idol of the Hello! Project revealed the different covers of her photobook.
The singer, become less active since her departure from the Hello! Project in 2013, shows us a more mature side through her photobook.
The photos were shot in Los Angeles, in the USA. The book commemorates the 10 years of Mano Erina's entry into the Hello! Pro Egg (today called Hello! Pro Kenshuushei), and thus her beginnings in show business.
Discover the covers and photos of Mano Erina below.