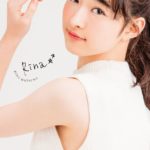 The photobook of Matsuno Rina (ex-Shiritsu Ebisu Chugaku) entitled Rina will be published posthumously on July 20th.
Matsuno Rina passed away last February of a severe arrhythmia at the age of 18.
The book will have 122 pages with a lot of pictures, and will illustrate the short and vibrant life of Matsuno Rina, who was also active as a fashion model in addition to being a member of the idol group Shiritsu Ebisu Chugaku.
Matsuno Rina had always thought of publishing a solo photobook. Unfortunately, her dream came true after her death.
Members of the Shiritsu Ebisu Chuugaku fan club and users of Stardust Promotion's official website will be able to pre-order the photobook from 9 to 19 June and receive it at the Tokyo International Forum Hall A concert on July 16, Matsuno Rina's birthday.