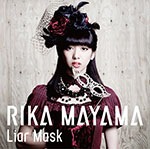 Mayama Rika's 1st solo single Liar Mask will be released on November 26th.
Mayama Rika is a member of Shiritsu Ebisu Chuugaku, also known as Ebichu.
Liar Mask is the opening theme song for the anime Akame ga Kill! (アカメが斬る!).
It was written and composed by Tomo.×大塚剛毅.
The lyrics of the coupling song Shinkirou (蜃気楼) were written by acane_madder. The music was composed and arranged by Kitagawa Katsutoshi (Round Table). It is a ballad.
There are 3 versions of the CD including one which is available for a limited period of time.
Furthermore, Shiritsu Ebisu Chuugaku's new single Haitaiteki! (ハイタテキ!) is on sale since November 5th.
Tracklist
Regular Edition

CD

Liar Mask
Shinkirou (蜃気楼)
Liar Mask (Instrumental)
Limited Editions

CD

Liar Mask
Shinkirou
Liar Mask (Anime Size)
Liar Mask (Instrumental)

DVD (Limited)

Liar Mask (Music Video)
Making-of
2014.9.1 Mayama Rika Debut Surprise Day Micchaku Document (2014.9.1 真山りかデビューサプライズDay密着ドキュメント)

DVD (Limited Pressing)

TV Anime "Akame ga Kill!" Non Credit Opening Movie (TVアニメ「アカメが斬る!」ノンクレジットオープニング映像)
Interviewed by "Lisani!" (「リスアニ!」)