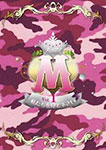 Meguriai Showcase Vol.1 : Watashitachi wo Mite Kudasai  (メグリアイ ショーケース Vol.1: 私たちを見て下さい) will be released on DVD on August 9.
The DVD includes the 13 songs performed by Meguriai at the live, including their latest singles.
The concert was recorded on May 3, 2013.
Furthermore, Meguriai will hold their next one-man live Emerge on September 15 at Tower Records Shibuya in Tokyo.
Setlist
Candy Girl
Ruriiro no Tsubasa (瑠璃色の翼)
Kimi Dake Refrain (君だけRefrain)
Otomezakura (乙女桜)
Daisuki (大好き☆) -Album ver.-
I Wish ~Kimi Daki wo~ (I Wish ~キミダケヲ~)
Ichibanboshi (イチバンボシ) -Album ver.-
Koi Yuki ~White Christmas~ (恋雪 ~White Christmas~)
Meikyuu Fantasia (迷宮Fantasia)
Happy! Lucky!
Koi no Kajitsu (恋の果実)
Himawari (向日葵)
Daisuki (大好き☆) -Album ver.- (Full Member ver.)
Video