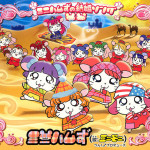 Mini Hams no Kekkon Song (ミニハムずの結婚ソング) is the 7th single released by Minimoni on December 4th, 2002.
This is the 2nd single of the idol group under the name of Mini Hams. Minimoni was a sub-unit under Hello! Project group Morning Musume.
Yaguchi Mari made her last appearance with Minimoni on this single.
It is the theme song for Hamtaro's 2nd movie Ham Ham Ham Ja! Maboroshi no Princess (ハムハムハムージャ!幻のプリンセス).
60,001 copies of the CD were sold.
The total length is 10:50.
Track list
Mini Hams no Kekkon Song (ミニハムずの結婚ソング)
Mini Hams Kisha (ミニハム汽車)
Mini Hams no Kekkon Song (Original Karaoke)
Music Video (PV)
Featured Members
Good-Chan (Yaguchi Mari)
Meika-Chan (Mika Todd)
Nonno-Chan (Tsuji Nozomi)
Ai-n Chan (Kago Ai)