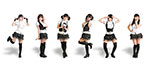 Mito Gotochi Idol (水戸ご当地アイドル(仮)) is a Japanese idol group formed in 2012. It currently consists of 6 members. Each one of them has been assigned a color.
As its name suggests, the unit is based in Mito in Ibaraki Prefecture.
Mito Gotochi Idol released their debut single Nebappe☆Mitoppo in December 2012.
Mito Gotochi Idol host some radio shows on IBS : Jump! between November 2012 and March 2013, and Nebareru Radio (ねばれるラジオ) since April 2013.
In December 2013, Mito Gotochi Idol won the U.M.U. Award 2013. Local idol groups from the 47 prefectures of Japan participated in this contest.
Among their activities, they are promoting Ibaraki.
The fans are called "Mitoppo" (みとっぽ).
Profile
Mito Gotochi Idol (水戸ご当地アイドル(仮))
Years active : 2012 – present
Label : –
Agency : –
Members
Kahohho (かほっほ) – Blue
Marinappi (まりなっぴ) – Red
Sayumin (さゆみん) – Vivid Pink
Honami (ほなみ) – Light Blue
Ri-Rin (りーりん) – Purple
Eririn (えりりん) – Pastel Pink
Former Members
Sayapyo (さやぴよ)
Eripyo (えりぴょ)
Hina (ひな)
Kotomi (ことみ)
Aki (あき)
Discography
Singles
12/12/2012 : Nebappe☆Mitoppo
04/11/2013 : Torehai! (トレハイ!)
Albums
Links
News