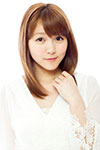 Former Morning Musume member Mitsui Aika decided to stop her entertainment activities for a while in order to study English abroad.
Mitsui Aika explained that going to a foreign country was the best way to learn English. She has become interested in studying this language when she was in Hawaii along with Morning Musume.
However, Mitsui Aika will remain a member of Hello! Project.
The announcement was made during the live event Hello! Project Countdown Party 2013 Good Bye & Hello held on December 31 at Nakano Sun Plaza in Tokyo.