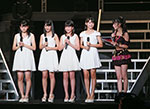 The results of Morning Musume 12th generation audition have been announced on September 30th.
4 new girls joined Morning Musume '14 as 12th generation members : Ogata Haruna, Nonaka Miki, Haga Akane, Makino Maria.
The new members were introduced on stage by leader Michishige Sayumi during the first live performance of Morning Musume '14 Concert Tour 2014 Aki Give Me More Love at Nippon Budokan.
Ogata Haruna is from Osaka. She practiced figure skating. She is 15 years old.
Nonaka Miki is from Shizuoka. She introduced herself in English. She is 14 years old.
Haga Akane is from Nagano. Her special skill is calligraphy. She is 14 years old.
Makino Maria was finalist of the 11th generation audition. She is from Aichi Prefecture. She is 13 years old.
Haga Akane and Makino Maria are former Hello! Pro Kenshuusei.
The 4 girls have been selected among 8000 applicants who participated in the audition.