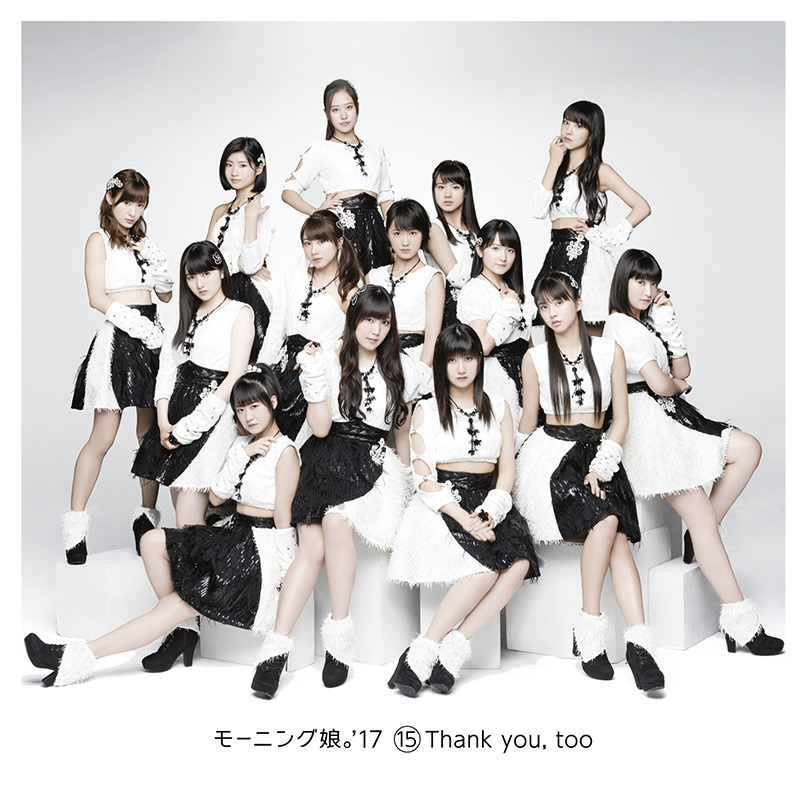 Morning Musume '17 will release their new album 15 Thank you, too on December 6th.
As its title indicates, this is the 15th regular album of the idol group.
This album is the first by the idol group for 3 years, the first with the members of the 12th, 13th and 14th generations (integrated respectively in January 2015, January and June 2017) and the last with Kudo Haruka who will gradauate from Morning Musume '17 in mid-December.
The title of the album is not chosen by chance! It's a real game with numbers : "Thank you" is pronounced in Japanese "sankyuu" as the number 39, and "too" is pronounced as "two" (2): the two numbers summed to 41, the total number of group members integrated during these first 20 years. In addition, the addition of all the actual or phonetic numbers in the album title (1 + 5 + 3 + 9 + 2) gives 20, the age of the group.
Also, note that the limited edition cover of this album pays particular tribute to the first album of the group, First Time, released in 1998.
The CD will contain a total of 15 songs; you'll be able to find the two singles awarded to "Morning Musume '17" (such as Brand New Morning / Jealousy Jealousy et Jama Shinaide Here We Go! / Dokyuu no Go Sign / Wakaindashi!).
A new version of Joshi Kasimashi Monogatari (2004) is interpreted by the current members of the group.
You will also find the song Ai no Tane (20th Anniversary ver.) sung exclusively by current members for this album.
The Blu-ray of the limited edition will contain the video of the concert celebrating the 20th anniversary of Morning Musume, held on September 14th.
Tracklist
Jealousy Jealousy (Album Version) (ジェラシー ジェラシー)
Romance ni Mezameru Mousou Joshi no Uta (ロマンスに目覚める妄想女子の歌)
CHO DAI
Watashi no Nanni mo Wakacchanai (私のなんにもわかっちゃない)
Jama Shinaide Here We Go! (邪魔しないで Here We Go!)
Style of my love (Iikubo Haruna, Oda Sakura & Makino Maria)
Narcissus Kamatte-chan Kyousoukyoku Dai 5ban (ナルシスカマってちゃん協奏曲第5番)
Seishun Say A-HA (青春Say A-HA)
Wakaindashi! (若いんだし!)
Mou Gaman Dekinai wa ~Love ice cream~ (もう我慢できないわ) (Ogata Haruna, Haga Akane, Kaga Kaede & Yokoyama Reina)
Dokyuu no Go Sign (弩級のゴーサイン)
Koi wa Toki ni (恋は時に) (Fukumura Mizuki, Ikuta Erina, Ishida Ayumi, Sato Masaki, Kudo Haruka, Nonaka Miki & Morito Chisaki)
Joshi Kashimashi Monogatari (Morning Musume '17 Ver.) (女子かしまし物語 (モーニング娘。'17 Ver.))
BRAND NEW MORNING
Ai no Tane (20th Anniversary Ver.) (愛の種) (Morning Musume 20th)
"Morning Musume Kessei 20 Shuunen Kinen Event ~21nenme mo Ganbatte Ikimasshoi!~" (2017/9/14 Shinkiba STUDIO COAST) (「モーニング娘。結成20周年記念イベント ~21年目もがんばっていきまっしょい!~」(2017/9/14 新木場STUDIO COAST))