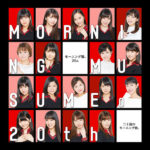 The special unit Morning Musume 20th is back for a mini album Hatachi no Morning Musume (二十歳のモーニング娘。).
It will be released on February 7th.
This mini album celebrates the 20th anniversary of Morning Musume.
Check out the MV below.
There are four digital singles released between November 2017 and January 2018 (including covers of Ai no Tane and Morning Coffee), and four new songs. One of them, called WE ARE LEADERS! ~Leader tte no mo Tsurai Mono~, is performed by all the leaders who have succeeded at the head of Morning Musume during these twenty years (nine leaders, six of whom are not part of "Morning Musume 20th") while d others are sung by only a few members.
The song Tane wa Tsubasa (Wings of the Seed) is played only by the original five members, which had not happened since the single Morning Coffee in 1998.
The current and former members who participated in the recording of this mini album are:
1st gen: Nakazawa Yuko, Ishiguro Aya, Iida Kaori, Abe Natsumi, Fukuda Asuka
2nd gen: Yaguchi Mari
4th gen: Yoshizawa Hitomi
5th gen: Takahashi Ai, Niigaki Risa
6th gen: Fujimoto Miki, Michishige Sayumi
9th gen: Fukumura Mizuki, Ikuta Erina
10th gen: Iikubo Haruna, Ishida Ayumi, Sato Masaki, Kudo Haruka
11th gen: Oda Sakura
12th gen: Ogata Haruna, Nonaka Miki, Makino Maria, Haga Akane
13th gen: Kaga Kaede, Yokoyama Reina
14th gen: Morito Chisaki
The CD will have a total of 8 songs.
The limited edition DVD will feature interviews with 1st generation members, two video clips and a video of the Morning Musume '17 concert held on November 21, 2017, a concert celebrating the band's 20th anniversary.
We wish a very happy anniversary to the famous group of idols!
Tracklist
CD

Morning Coffee (20th Anniversary Ver.) (モーニングコーヒー) (Morning Musume 20th)
WE ARE LEADERS! ~Leader tte no mo Tsurai Mono~ (~リーダーってのもつらいもの~) (Morning Musume Leaders: Nakazawa Yuko, Iida Kaori, Yaguchi Mari, Yoshizawa Hitomi, Fujimoto Miki, Takahashi Ai, Niigaki Risa, Michishige Sayumi, Fukumura Mizuki)
Hana ga Saku Taiyou Abite (花が咲く 太陽浴びて) (Morning Musume '18)
ENDLESS HOME (Abe Natsumi feat. Fukumura Mizuki, Oda Sakura)
Otenki no Hi no Matsuri (お天気の日のお祭り) (Morning Musume '18)
Tane wa Tsubasa (Wings of the Seed) (タネはツバサ) (Nakazawa Yuko, Iida Kaori, Abe Natsumi, Ishiguro Aya, Fukuda Asuka)
Gosenfu no Tasuki (五線譜のたすき) (Morning Musume '17)
Ai no Tane (20th Anniversary Ver.) (愛の種) (Morning Musume 20th)
Limited Edition DVD

Nakazawa Yuko Interview
Ishiguro Aya Interview
Iida Kaori Interview
Abe Natsumi Interview
Fukuda Asuka Interview
Morning Musume Tanjou 20 Shuunen Kinen Concert Tour 2017 Aki ~We are MORNING MUSUME~ 2017/11/21 at Nippon Budokan (モーニング娘。誕生20周年記念コンサートツアー2017秋 ~We are MORNING MUSUME。~ 2017/11/21 at 日本武道館)

Shabondama (シャボン玉) (Takahashi Ai, Michishige Sayumi, Tanaka Reina, Morning Musume '17)
Resonant Blue (リゾナント ブルー) (Takahashi Ai, Michishige Sayumi, Tanaka Reina, Morning Musume '17)
MC
Suki da na Kimi ga (好きだな君が) (Michishige Sayumi, Fukumura Mizuki)
Robokiss (ロボキッス) (Tsuji Nozomi, Sato Masaki, Kudo Haruka)
MC

Ai no Tane (20th Anniversary Ver.) Music Video
Gosenfu no Tasuki (Music Video)
Music Video (PV)