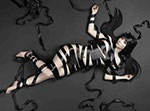 Nakagawa Shoko's new single Zoku Konton (続 混沌) will be released on June 5.
It is fhe first single from Shokotan for almost a year and a half. Only one edition is available.
The CD contains 5 songs, including a live version of Kabukichou no Joou (歌舞伎町の女王) recorded at Nakano Sun Plaza.
It comes with a DVD featuring the music video and making-of footage.
The lyrics were written by Iwasato Yuho. The music was composed by Shiraishi Satori.
Tracklist
CD

Zoku Konton (続 混沌)
Raspberry Eclipse (紅恋毒蝕)
Zoku Konton (続 混沌) (Instrumental)
Raspberry Eclipse (紅恋毒蝕) (Instrumental)
Kabukichou no Joou – 2011.12.20 Nakano Sun Plaza ver. (歌舞伎町の女王 -2011.12.20.中野サンプラザver)
DVD

Zoku Konton (続 混沌) (Music Video)
Zoku Konton (続 混沌) (Making of)
Music Video