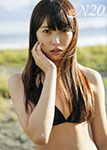 Nakajima Saki's new photobook and DVD N20 will be released on February 5.
This date is also Nakajima Saki's birthday. The member of °C-ute will turn 20 years old.
N20 is the 4th photobook from Nakajima Saki. As she is going to reach the age of majority in Japan, this book contains photos showing a more adult side of Nacky.
The DVD includes making-of footage from N20. A short video has been released.
Nakajima Saki joined Hello! Project Kids when she was 8 years old, and °C-ute 3 years later.
The photobook is published by Wani Books. It comes with 2 L-size pictures.
The DVD is on sale on e-LineUP! for a limited period from January 10 to 29. It is also available on CDJapan after this period.