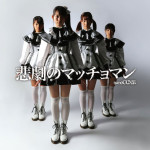 nanoCUNE's new single Higeki no Macho Man (悲劇のマッチョマン ; The Tragic Macho Man) was released on January 28.
It is the major debut single of nanoCUNE under Victor Entertainment's label Version Music.
The lyrics were written by Yamashita Tomoki. He also composed the music.
3 versions are on sale. The limited editions include a bonus track.
Moreover, nanoCUNE are holding several release events in Tokyo and Ehime prefecture from January 28 to February 7.
Tracklist
Regular Edition

Higeki no Macho Man (悲劇のマッチョマン)
Fly Ageishon (ふらいあげいしょん)
Karen ni Saku, Marguerite (可憐に咲く、マーガレット)
Type A

Higeki no Macho Man
Fly Ageishon
Karen ni Saku, Marguerite
Tara-Reva
Type B

Higeki no Macho Man
Fly Ageishon
Karen ni Saku, Marguerite
Houkago no Kiseki (放課後の奇跡)