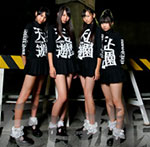 nanoCUNE's new album Tenjou Yuuen (天上遊園) will be released on November 13.
This is the 1st album from nanoCUNE.
It celebrates the 2nd anniversary of the idol group.
Only one edition is available.
The CD contains 14 songs including their latest singles Hareruya! (晴れルヤ!), Shoudou Days (衝動Days), and Usotsuki Ryan (嘘つきライアン).
Moreover, nanoCUNE will hold a live performance on November 24 in Nagoya to celebrate this release.
Tracklist
Ao no Sekai (碧の世界)
Miira Otoko to Franken (ミイラ男とフランケン)
Massatsu Rock (抹殺ロック)
Usotsuki Ryan (嘘つきライアン)
Koko de Sodatta Sweet (ここで育ったSweet)
Shikou Sakuran (思考錯乱)
Shooting Star
Hareruya! (晴れルヤ!)
Shizuku (しずく)
Dramatic Girl (ドラマティック・ガール)
Kimi ni Yell (君にエール)
Lucky Happy (ラッキーハッピー)
S.O.S.
Shoudou Days (衝動Days)