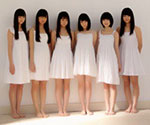 Tsunku♂ revealed that the name of the new Hello! Project unit is Juice=Juice (ジュースジュース).
This new idol group consists of 6 members. Miyamoto Karin, Kanazawa Tomoko, Uemura Akari, Takagi Sayuki, and Otsuka Aina are part of Hello! Pro Kenshuusei (ex Hello! Pro Egg). Miyazaki Yuka is a member of Green Fields, a unit from Satoyama Movement.
Each member will represent a fruit and will be associated to a color :
Miyamoto Karin : Grape, Purple
Kanazawa Tomoko : Apple, Red
Miyazaki Yuka : Peach, Pink
Uemura Akari : Melon, Green
Takagi Sayuki : Lemon, Yellow
Otsuka Aina : Orange, Orange
Juice=Juice will participate in Hello! Project Hinamatsuri Festival on March 2-3.