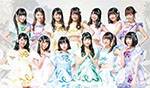 A new idol group was just formed : its name is seeDream.
This the first idol group formed under the new Nippon Columbia label : Label The Garden, a special idol label..
The group has a total of 13 members selected after an audition. They are between 14 and 20 years old.
The members are : Fujii Aine, Tsugawa Arika, Nakajima Ayaka, Minato Honami, Kamiya Izumi, Hazuki Kotomi, Kawase Miko, Takahashi Mio, Yukishige Nana, Tachibana Nao, Kimura Saaya, Ueno Tsuyuha and Nagasawa Yoshiho.
The idol group will make its first appearance at Tokyo Idol Festival 2016 in August.
Websites :