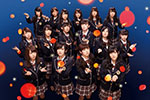 NMB48's 10th single Ibiza Girl (イビサガール) will be released on June 21 on iTunes Store.
The list of the 22 Senbatsu members has been unveiled on May 22 on the 2nd day of NMB48 Request Hour Setlist Best 50 2014 (NMB48リクエストアワー セットリストベスト50 2014).
The MV has been released.
Ibiza Girl was performed for the first time during this event.
The members of AKB48 and HKT48 holding a concurrent position are making their first appearance with NMB48 on this single.
Senbatsu members :
Team N : Yamamoto Sayaka, Kashiwagi Yuki, Jonishi Kei, Yoshida Akari, Kato Yuuka, Murashige Anna, Kotani Riho et Oota Yuuri
Team M : Yamada Nana, Shiroma Miru, Yagura Fuuko, Tanigawa Airi, Murase Sae, Takano Yui et Fujie Reina
Team BII : Watanabe Miyuki, Yabushita Shu,  Umeda Ayaka, Ichikawa Miori, Takayanagi Akane, Kadowaki Kanako et Nagisa Shibuya
The lyrics and the music of the title song were written and composed by producer Akimoto Yasushi.
Ibiza Girl is the CM song for Nakau company (なか卯).
Music Video (PV)