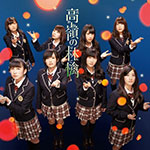 NMB48's 9th single Takane no Ringo (高嶺の林檎) will be released on March 26.
The MV, the tracklist, and the covers for Takane no Ringo have been revealed.
The list of the 16 Senbatsu members on NMB48's 9th single has also been unveiled. The centers are Yamamoto Sayaka and Watanabe Miyuki.
Each version includes bonus such as a voting card for NMB48 Request Hour Setlist Best 50 2014 (NMB48リクエストアワー2014), a ticket for the National Handshake Event (全国握手会), and a trading card randomly selected among 16 models.
The Senbatsu members are :
Team N: Ogasawara Mayu, Kotani Riho, Jonishi Kei, Ichikawa Miori, Shiroma Miru, Yamamoto Sayaka, Yoshida Akari, Watanabe Miyuki
Team M: Murase Sae, Takano Yui, Tanigawa Airi, Yagura Fuuko, Yamada Nana
Team BII: Katou Yuuka, Yabushita Shu
Kenkyuusei: Shibuya Nagisa
The 3 coupling songs for NMB48's 9th single are performed by Shirogumi, Akagumi, and Namba Teppoutai Sono Go. They are different on each edition.
Shirogumi (白組) (12 members)
Team N: Kadowaki Kanako, Kishino Rika, Kinoshita Haruna, Yamamoto Sayaka
Team M: Okita Ayaka, Murakami Ayaka, Yagura Fuuko, Yamagishi Natsumi
Team BII: Ishizuka Akari, Ijiri Anna, Kamieda Emika
Kenkyuusei: Odan Mai
Akagumi (紅組) (12 members)
Team N: Kondo Rina, Yamaguchi Yuuki, Watanabe Miyuki
Team M: Kawakami Rena, Kinoshita Momoka, Mita Mao, Yamada Nana, Yogi Keira
Team BII: Kusaka Konomi, Kushiro Rina
Kenkyuusei: Miura Arisa, Yamao Rina
Namba Teppoutai Sono Go (難波鉄砲隊其之伍) (8 members)
Team N: Shiroma Miru, Nishimura Aika, Hayashi Momoka
Team BII: Akazawa Hono, Ota Yuuri, Muro Kanako
Kenkyuusei: Kawakami Chihiro, Nakano Reina
Tracklist
Type A

CD

Takane no Ringo (高嶺の林檎)
Isshuukan, Zenbu ga Getsuyoubi nara ii no ni… (一週間、全部が月曜日ならいいに…)
Prom no Koibito (プロムの恋人) (Shirogumi)
Takane no Ringo (高嶺の林檎)
Isshuukan, Zenbu ga Getsuyoubi Naraiinoni… (一週間、全部が月曜日ならいいに…) (Instrumental)
Prom no Koibito (プロムの恋人) (Instrumental)

DVD

Takane no Ringo (高嶺の林檎) (Music Video)
Takane no Ringo (高嶺の林檎) (Dancing version)
Prom no Koibito (プロムの恋人) (Music Video)
Bonus footage "Oshaberi Gumi" Part 1 (特典映像 「おしゃべり組」)
Type B

CD

Takane no Ringo (高嶺の林檎)
Isshuukan, Zenbu ga Getsuyoubi nara ii no ni… (一週間、全部が月曜日ならいいに…)
Mizukiri (水切り) (Akagumi)
Takane no Ringo (高嶺の林檎)
Isshuukan, Zenbu ga Getsuyoubi Naraiinoni… (一週間、全部が月曜日ならいいに…) (Instrumental)
Mizukiri (水切り) (Instrumental)

DVD

Takane no Ringo (高嶺の林檎) (Music Video)
Takane no Ringo (高嶺の林檎) (Dancing version)
Mizukiri (水切り) (Music Video)
Bonus footage "Oshaberi Gumi" Part 2 (特典映像 「おしゃべり組」)
Type C

CD

Takane no Ringo (高嶺の林檎)
Isshuukan, Zenbu ga Getsuyoubi nara ii no ni… (一週間、全部が月曜日ならいいに…)
Yama e Ikou (山へ行こう) (Namba Teppoutai Sono Go)
Takane no Ringo (高嶺の林檎) (Instrumental)
Isshuukan, Zenbu ga Getsuyoubi Naraiinoni… (一週間、全部が月曜日ならいいに…) (Instrumental)
Yama e Ikou (山へ行こう) (Instrumental)

DVD

Takane no Ringo (高嶺の林檎) (Music Video)
Takane no Ringo (高嶺の林檎) (Dancing version)
Yama e Ikou (山へ行こう) (Music Video)
NMB48 feat. Yoshimoto Shinkigeki Vol.8 (NMB48 feat.吉本新喜劇 Vol.8)
Theater Edition

CD

Takane no Ringo (高嶺の林檎)
Prom no Koibito (プロムの恋人) (Shirogumi)
Mizukiri (水切り) (Akagumi)
Kasa wa Iranai (傘はいらない)
Takane no Ringo ( (高嶺の林檎))(Instrumental)
Prom no Koibito (プロムの恋人) (Instrumental)
Mizukiri (水切り) (Instrumental)
Kasa wa Iranai (傘はいらない) (Instrumental)
Music Video (PV)