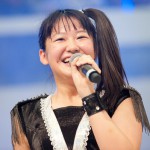 Nonaka Miki (Morning Musume '16) suffers fractured left foot.
As a result, she will miss the upcoming concert, Hello! Project 2016 Winter ~Dancing! Singing! Exciting!~, and events of Morning Musume '16. She will take a rest for 4 weeks.
Nonaka Miki got injured after a fall on February 9th. She has been diagnosed with a fracture of the 5th metatarsal in her left foot.
We wish her a speedy recovery.