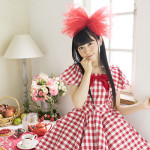 Ogura Yui's 1st album Strawberry Jam is on sale since March 25.
Ogura Yui is a popular voice actress (seiyuu). She is also a member of YuiKaori.
Check out the dance version of the MV and the short version its making-of.
This album, in addition to the single song just Ogura Yui has been released from solo debut, bright from cute music, rock tune to feel the strength, concentrated various attractive to ballad tight and stuffed piece of must listen!
Ogura Yui is Chris' character voice of Cross Ange: Rondo of Angels and Dragons, and also Tsutukakushi Yukiko's character voice of The "Hentai" Prince and the Stony Cat, who is actived in many blockbuster.
The album contains 12 songs.
The limited editions include either a DVD or a Blu-ray featuring 5 music videos and making-of footage.
Tracklist
CD

Fun Fun Merry Jam
Charming Do!
Itsudatte Call Me! (いつだって Call Me!)
A Lovely Tea Break
Pon de Fighting!
Get Over
Raise
Sugar Heart Eiku (シュガーハートエイク)
Tinkling Smile
Happy Strawberry
Baby Sweet Berry Love
Sing-a-ling-a-Harmony
DVD / Blu-ray

Happy Strawberry (Music Video)
2. Raise (Music Video)
3. Baby Sweet Berry Love (Music Video)
4. Charming Do! (Music Video)
5. Tinkling Smile (Music Video)
6. Making of Strawberry Jam
Music Video (PV) & Making-of