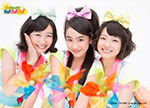 Oha Girl Chu! Chu! Chu! will release their new single Natsu Thank You!!! (夏サンキュ!!!) on July 9.
6 editions are available. They all come with a trading card.
The limited editions include a DVD featuring the music video and bonus footage.
The single is produced by Takuya (ex Judy and Mary).
Regular Editions
CD

Natsu Thank You!!! (夏サンキュ!!!)
Happy! Happy! Happy Birthday! (ハピ! ハピ!ハピバースデー!)
Natsu Thank You!!! (夏サンキュ!!!) (Instrumental)
Happy! Happy! Happy Birthday! (ハピ! ハピ!ハピバースデー!) (Instrumental)
Limited Editions
CD

Natsu Thank You!!! (夏サンキュ!!!)
Happy! Happy! Happy Birthday! (ハピ! ハピ!ハピバースデー!)
Natsu Thank You!!! (夏サンキュ!!!) (Instrumental)
Happy! Happy! Happy Birthday! (ハピ! ハピ!ハピバースデー!) (Instrumental)
DVD (Type D)

Natsu Thank You!!! (夏サンキュ!!!) (MV)
Chu! tto Kotae Machu! 4 (ちゅ!っと答えまちゅ! 4)
DVD (Type E)

Natsu Thank You!!! (夏サンキュ) (MV)
Natsu Thank You!!! Treasure (夏サンキュ!!! トレジャー)
DVD (Type F)

Natsu Thank You (夏サンキュ) (MV)
Natsu Thank You!!! Pleasure (夏サンキュ!!! プレジャー)