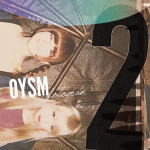 Oyasumi Hologram released its second album on April 22.
It is entitled 2.
The video clip of the song way home (or Kaerimichi) was unveiled. It was directed by Company Matsuo (which also directed the film BiS Cannonball).
One edition of the single is available.
The CD contains 7 songs.
The clip begins with Kanamiru working at her old part-time job at a yakitori restaurant and Hachigatsu-chan cleaning up at live house Shinjuku Loft. A handheld camera follows the duo as they both begin their respective journeys home. Towards the end, they pass each other on an overhead walkway and turn to face each other before continuing on their way.
The clothes that the members wear in the MV were designed by galaxxxy.
Tracklist
CD

way home (帰り路)
too young
11
underwater
our future
strawberry
New Romancer
Music Video  (PV)