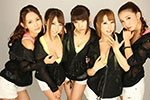 Pinkey is a Japanese idol group formed in 2012. They are produced by BRW108.
It currently consists of 5 members.
Kitagawa Hitomi, Okazaki Emiri, Suou Yukiko, Tomoda Ayaka, and Ayami Syunka are also gravure idols and AV idols (adult video actresses).
Pinkey released their debut single Love Beat in August 2012.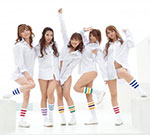 Ohashi left the idol unit 2013. She was replaced by Ayami Syunka.
The girls perform sexy music videos (PV) and live performances.
Pinkey disbanded in late January 2015.
Profile
Pinkey
Years active : 2012 – present
Label : –
Agency : BRW108 Records
Members
Kitagawa Hitomi (北川瞳)
Okazaki Emiri (丘咲エミリ)
Suou Yukiko (周防ゆきこ)
Tomoda Ayaka (友田彩也香)
Ayami Syunka (あやみ旬果)
Former Members
Discography
Singles
22/08/2012 : Love Beat
01/05/2013 : Doki Doki Dockin' (ドキドキDockin')
05/02/2014 : Romantic ga Tomaranai (Romanticが止まらない)
Albums
Links
News