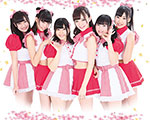 Power Spot's new single Kiechae yo (消えちゃえよ) will be released on January 7.
This is the 7th single from Power Spot. Only one edition is available. The CD includes 2 songs and their instrumental versions.
The short version of the MV has been released.
The lyrics of Kiechae yo (消えちゃえよ) were written by Black Cherry. The music was composed and arranged by Urata Masakatsu.
The coupling track Boku wo Madowasu Kaze no Nioi (僕を惑わす風のにおい) was written by Nagai Tatsu.
Tracklist
Kiechae yo (消えちゃえよ)
Boku wo Madowasu Kaze no Nioi (僕を惑わす風のにおい)
Kiechae yo (消えちゃえよ) (Instrumental)
Boku wo Madowasu Kaze no Nioi (僕を惑わす風のにおい) (Instrumental)
Music Video (PV)