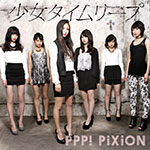 PPP! PiXiON's new single Shoujo Time Leap (少女タイムリープ) will be released on November 20.
This is the 3rd single from PPP! PiXiON. 2 editions are available. The CD includes 2 songs and their instrumental versions.
The short version of the music video has been released.
Shoujo Time Leap is a song about girls growing up into adults.
Tracklist
Shoujo Time Leap (少女タイムリープ )
Kakeagare!!! (駆け上がれ!!!)
Shoujo Time Leap (少女タイムリープ ) (Instrumental)
Kakeagare!!! (駆け上がれ!!!) (Instrumental)
Music Video (PV)