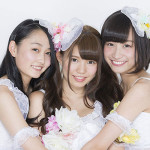 PPP! PiXiON is a Japanese idol group formed in December 2012.
It currently consists of 3 members.
Biography / History
The idol unit is based in Tokyo.
They hold regular live performances in Shibuya and Akihabara.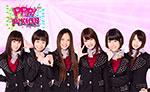 The concept of PPP! PiXiON is "theme park (テーマパーク)". Their goal is to create a paradise where everyone can be happy. The girls want go give dream and excitement. A live performance is called "attraction" and the fans are the "guests".
Their debut single Get your Love / Pixel Coaster was released in December 2012.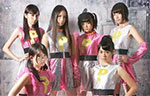 PPP! PiXiON's sister group PiiiiiN was created in December 2013.
Kameda Risa and Mikami Sumire announced their graduation in May 2014. Ito Risa and Kitagami Aika joined the idol group to replace them.
The girls participate in a campaign for BMG (Best Smart Girls) fashion brand as models.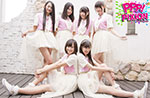 Kitagami Aika left the idol group in August 2014 for personal reasons.
As a sexy and busty gravure idol, Yokoyama Ami released solo DVDs titled in Aminyan no First Check (あみにゃんのファーストタッチ) in November 2014 and Pure Smile (ピュア・スマイル) in March 2015.
Tamada Akari announced her graduation in March 2015.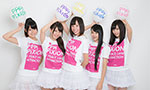 PiiiiiiiN members appear on the Cheerz mobile app for smartphones since the spring of 2015.
In April 2015, PPP! PiXiON made onigiri (rice balls) for customers to promote the opening of Girls Omusubi Cafe (ガールズおむすびカフェ 「ガルむす」) in Akihabara, Tokyo. Fans could talk to the members while they were cooking or serving the meal.
As a gravure idol, Yokoyama Ami released the Blu-ray Aminyappuru (あみにゃっぷる) July 2015.
Odahara Shiho graduated in August 2015.
Profile
PPP! PiXiON (ピピピ!ピクション)
Years active : 2012 – present
Label : –
Agency : New Style Production
Members
Suzuki Erika (鈴木えりか)
Yokoyama Ami (横山あみ)
Ito Risa (伊東りさ)
Former Members
Kameda Risa (亀田理沙)
Mikami Sumire (三上すみれ)
Kitagami Aika (北上あいか)
Tamada Akari (玉田あかり)
Odahara Shiho (小田原しほ)
Discography
Singles
19/12/2012 : Get your Love / Pixel Coaster (Get your Love / ピクセルコースター)
21/07/2013 : Geki Splash / Big Love ~Kibou no Tanjou~ (激スプラッシュ / ビッグラブ ~希望の誕生~)
20/11/2013 : Shoujo Time Leap (少女タイムリープ )
18/12/2013 : My Sweet Memory
25/06/2014 : #Kakusan Kibou ~Mitsukete! Watashitachi~ (#拡散希望 ~見つけて!私達~)
Albums
Links
News