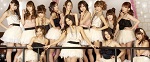 Minato Akane and Murakami Rumina from Predia, Akutsu Kentaro and other artists will participate in The Akutsu Seitansai ~Kyou Dake ha Wagamama wo Yurushite Kudasai~ (The 阿久津生誕祭~今日だけはわがままを許してください~).
The event will be held on November 25 at Nishi-Kawaguchi Hearts.
Schedule
Date : 25/11/2012
Time : 16:30
Venue : Nishi-Kawaguchi Hearts
Line up :

Akutsu Kentaro
Akutsu Ai
Predia (Minato Akane, Murakami Rumina)
Hayama Hiroaki
+Plus
HAV
Nakanomori Ayako
Kaneko Kyohei
Ueda Kenichi
etc.