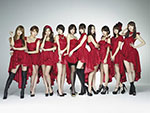 Predia is a Japanese idol group formed in November 2010 by Platinum Passport.
It currently consists of 9 members.
The origin of the name of the idol group comes from "diamond in the rough".
Predia is a sister unit of Passpo☆ and Palet. They have a more "adult and sexy" style.
Izumi Terumi and Takeda Megumi graduated in February 2014. During their last live performance, Predia announced that their major debut was planned in summer 2014.
Maeda Yuu joined the idol unit as a new member in March 2014.
Sakurako released her 1st DVD Spicy Cherry in November 2014.
Profile
Predia (プレディア)
Years active : 2010 – present
Label : Nippon Crown
Agency : Platinum Passport
Members
Okamura Akina (岡村明奈)
Aoyama Reiko (青山玲子)
Minato Akane (湊あかね)
Murakami Rumina (村上瑠美奈)
Sawaguchi Keiko (沢口けいこ)
Matsumoto Runa (松本ルナ)
Hayashi Yuzuka (林弓束)
Mizuno Mai (水野まい)
Sakurako (桜子)
Maeda Yuu (前田ゆう)
Former Members
Ishii Yukiko (石井由希子)
Umakoshi Sachiko (馬越幸子)
Yosaka Yui (與坂唯)
Kirikawa Risa (桐川りさ)
Hirata Akemi (平田明海)
Murakami Marina (村上まりな)
Izumi Terumi (和泉テルミ)
Takeda Megumi (竹田愛)
Discography
Singles
26/01/2011 : Dia Love
20/07/2011 : Dream of Love
23/11/2011 : Honey B (ハニーB)
17/04/2013 : Crazy Cat
27/08/2013 : Hey Now!! / Cherry Love
06/08/2014 : Kowareta Ai no Hate ni (壊れた愛の果てに)
17/12/2014 : Utsukushiki Kodokutachi (美しき孤独たち)
Albums
28/03/2012 : Invitation
11/10/2013 : Predia Acoustic party 2013.8.24 at Shibuya Mt. Rainier Hall
09/04/2014 : Best of Predia 2010-2013 ~Reception~
Mini-Albums
Links
News