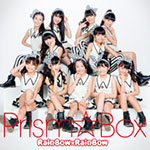 Prism☆Box's new single RainBow × RainBow will be released on April 24.
The single includes a DVD featuring various versions of the music video.
The title song is the ending theme for the anime series Pretty Rhythm: Rainbow Live (プリティーリズム・レインボーライブ) which will start airing on April 6.
Prism☆Box is a new unit consisting of 11 members from Prizmmy☆ and Prism☆Mates (プリズム☆メイツ).
The opening theme song for the anime, Boy Meets Girl, is also performed by Prizmmy☆. The single will go on sale on May 22.
Tracklist
CD

RainBow × RainBow
Boyfriend ♡♡♡
RainBow × RainBow (Instrumental)
Boyfriend ♡♡♡ (Instrumental)
DVD

RainBow × RainBow (Music Video)
RainBow × RainBow (TV Size Version)
RainBow × RainBow (Dance Master Version)