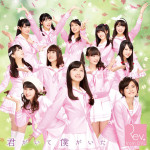 The 4th single of Rev. from DVL entitled Kimi ga Ite Boku ga Ita / Ai Girl (君がいて僕がいた/愛がーる) will be released on March 25.
Rev. from DVL announced its release last February. The single was previously entitled Kimi ga Ite Boku ga Ita only but it was decided to release the disc as double A-side.
The tracklists and the covers were unveiled.
Several versions of the single will be available : an existing edition WEB but not available for sale in stores, and two editions A and B (containing a CD whose tracks are different depending on the edition).
The WEB edition will include a CD like the edition B.
Edition A will include a different CD with extra DVD (which contains the music video in drama version and the choreography of the first co A-side song Kimi ga Ite Biku ga Ita with two bonus videos showing the making of the video for the song Kimi ga Ite Boku ga Ita and choreography of the other song Ai Girl or titled Aigaru). It will be accompanied by a randomly selected sheet of one member of the group and a lottery card only available during the first sales, for the chance to win a ticket to an event organized by the group.
Tracklist
Edition WEB

CD

Kimi ga Ite Boku ga Ita (君がいて僕がいた)
Ai Girl (愛がーる)
Takaramono (宝物)
Eien no Shirabe (永遠の調べ)
Kimi ga Ite Boku ga Ita (Instrumental)
Ai Girl (Instrumental)
Eien no Shirabe (Instrumental)
Eien no Shirabe (Instrumental)
Edition A

CD

Kimi ga Ite Boku ga Ita (君がいて僕がいた)
Ai Girl (愛がーる)
What a surprise!
Kimi ga Ite Boku ga Ita (Instrumental)
Ai Girl (Instrumental)
What a surprise! (Instrumental)

DVD

Kimi ga Ite Boku ga Ita (Music Video Drama ver.)
Kimi ga Ite Boku ga Ita (Music Video Dance ver.)
Kimi ga Ite Boku ga Ita (Music Video Making of)
Ai Girl (Choregraphie Video)

Bonus (First press only)

Life Photograph A (inclusion aléatoire d'une des 12 posters)
High touch Ticket (billet de participation à une réunion)
Edition B

CD

Kimi ga Ite Boku ga Ita (君がいて僕がいた)
Ai Girl (愛がーる)
50 years
Kimi ga Ite Boku ga Ita (Instrumental)
Ai Girl (Instrumental)
50 years (Instrumental)
Music Video (PV)