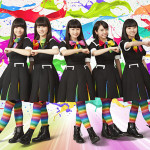 Rock A Japonica (ロッカジャポニカ) is a Japanese idol group formed during the summer of 2015.
It currently consists of 5 members who are also part of 3B Junior.
The unit is produced by Stardust Promotion.
The leader is Uchiyama Ami.
Biography / History
The creation of Rock A Japonica was announced during 3B Junior 1st Tour in the summer of 2015. They were temporarily known as King Records unit (キングレコード組(仮)).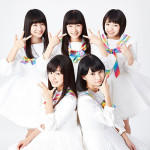 5 girls were selected among the 26 members of 3B Junior : Uchiyama Ami, Naito Runa, Shiina Ruka, Takai Chiho and Hirase Misato.
Rock A Japonica's debut single World Piece (ワールドピース) was released in January 2016. The lyrics were written by Goto Mariko.
The idol group's 1st one-man live was held in April 2016 at Tokyo Laforêt Museum. Hirase Misato wasn't able to participate in the event due to poor physical health.
The girls host the radio show i Meet Up! on FM Nack5 since May 2016.
The theme of Rock A Japonica's 2nd single Kyouka Shock (教歌Shock), on sale in July 2016, is "study".
Profile
Rock A Japonica (ロッカジャポニカ)
Years active : 2015 – present
Label : Evil Line Records
Agency : Stardust Promotion
Members
Uchiyama Ami (内山あみ)
Naito Runa (内藤るな)
Shiina Ruka (椎名るか)
Takai Chiho (高井千帆)
Hirase Misato (平瀬美里)
Discography
Singles
27/01/2016 : World Piece (ワールドピース)
06/07/2016 : Kyouka Shock (教歌Shock)
Albums
Links
News