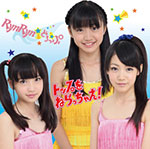 RynRyn Drop's 1st album Top wo Neracchae (トップをねらっちゃえ Online Ver.) will be released on September 29.
This album contains 8 song, including the first 4 singles of RynRyn Drop.
Furthermore, their sister unit Abunai Onna no Ko Sisters will also release their new album AOS on the same day.
Both idol groups hold regular live performances at Akiba on Stage in Akihabara in Tokyo.
Tracklist
Houkago Twintail (放課後ツインテール)
Soba ni Itai no (そばにいたいの。)
Yakusoku (約束)
Unbalance (アンバランス)
Dream Angel
You Jou Houseki Topaz (You情☆宝石トパーズ)
Fighting Smile (ふぁいてぃんぐSmile)
High Drop