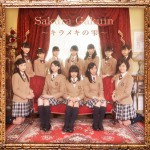 Sakura Gakuin's 6th album Sakura Gakuin 2015 Nendo ~Kirameki no Kakera~ (さくら学院 2015年度 ~キラメキの雫~) will be on sale on March 3rd.
The MV for the title song Kirameki no Kakera (キラメキの雫), the teaser trailer and the cover have been unveiled.
The album includes songs by the Sakura Gakuin and its sub-units sleepiece (Go Home Club), Mini-Patissier (Cooking Club), Koubaibu (Purchasing Club) and Kagakubu Kagaku Kyumei Kiko Logica? (Science Club).
Isono Rinon, Ooga Saki, Shirai Saki, who are going to leave the idol group this spring, perform their graduation song Michi Shirube (未知標 ~ミチシルベ~).
In the video clip, Sakura Gakuin members are having fun together at the beach.
The limited editions include a Blu-ray or a DVD featuring bonus footage such a live performance or special school tests.
Tracklist
CD

School days
Mezase! Super Lady -2015 Nendo- (目指せ!スーパーレディー - 2015年度-)
Chime (チャイム)
Mathematica! (マセマティカ!)
Jakapara Goo Goo Omurice (ジャカパラ Goo Goo ♡ オムライス) / Cooking Club Mini-Patissier
Suimin Fusoku (すいみん不足) / Go Home club sleepiece
Piece de Check! -2015- (ピース de Check ! – 2015-) / Purchasing Club Koubaibu
Science Girls Silence Boy (サイエンスガール▽サイレンスボーイ) / Science Club Kagakubu Kagaku Kyumei Kiko Logica? Ver 1.2
Michi Shirube (未知標 ~ミチシルベ~) / Isono Rinon, Ooga Saki, Shirai Saki
Yakusoku no Mirai (約束の未来)
Kirameki no Kakera (キラメキの雫)
Yume no Mukatte (夢に向かって)
Blu-ray (Sakura)

Mathematica! (Music Video)
Kirameki no Kakera (Music Video)
Let's Dance Live Video from Sakura Gakuin 5th Anniversary Live ~For You~
DVD (Gakuin)

Sakura Gakuin 2015 End of School Year Test ~Yudantaiteki! Kotoshi wa Nimousaku de Dai Shuukakusai~ (さくら学院 2015年度 学年末テスト ~油断大敵!今年は二毛作で大収穫祭~)
Misechuimasu! Sakura Gakuin 2015 Nukiuchi Chuukan Test! Tokubetsu Hen ~Aki no Shuukankakusai~ (見せちゃいます!さくら学院 2015年度 抜き打ち中間テスト!特別編 ~秋の収穫祭~)
Music Video (PV)