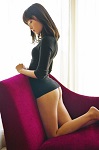 Sashihara Rino's new photobook will be published on March 22nd.
Sashihara Rino took up the challenge the pose for sexy photos as a gravure idol. According to the description, the pictures in lingerie aim to emphasize her legs and buttocks.
The photo shooting was done during Sasshi's trip in Las Vegas last October. The member of HKT48 went to the Bellagio Hotel, to the downtown, to a motel room…

The book also includes a long interview in which Sashihara Rino talks about her life as an idol and AKB48 general elections.
The title is Scandal Addiction (スキャンダル中毒). Further details will be announced later.
This is the 3rd photobook of Sashihara Rino.